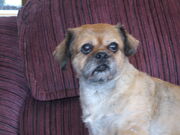 I'm saying goodbye to
Ollie
. He was such a nice little dog and will be missed for a long time. I've known him all my life and it sure is a shame to see him go.
I'll never forget the time I was like four years old and he was helping me on an easter egg hunt. He kept sniffing them out and helping me find them.
I'll also never forget what good of friends
Tootie
and him were. They were always seen together.
This is such a sad day for me and it really hit me hard. I've known him all my life because he was the same age as me and we've always been friends. Goodbye, Ollie. You will be missed. R.I.P.
Bunny J.
Dying to talk to me?
02:02, October 20, 2011 (UTC)