Tootie Fruity
Full name:
Tootie Fruity
Aliases:
Toot toots
Fur:
Black
White
Orange
Status:
Alive
Gender:
Female
Species:
Cat
Age:
3
Date of birth:
2008
Likes:
Shiloh (deceased)
Ollie (deceased)
Bear Boy (deceased)
Terry
Cathy
Priscilla
Dominic
Dislikes:
Water
Gretchen
Being woken up
Being picked up
(sometimes) Julian
Strangers
Litty
(sometimes) Mew
Family:
Woods
Tootie Fruity
is a cat. She can be a bit moody but is a very nice
cat
. She only has three legs but sure can run! A very cute cat, if you ask me.
Personality
Edit
She's pretty much a normal cat.
She likes to sit on a chair and look out the window. She likes to look at the cars and people go by.
She doesn't like a lot of people and will hide if there are a lot of people.
When you are making food, she'll run right up and meow to make sure you don't forget.
Priscilla and Tootie
Edit
I think Tootie likes Priscilla the most. She lets her pet her and likes to go in her room.
They are seen alot together and Tootie likes to be by her.
Dom and Tootie
Edit
Dom and Tootie do not get along together very well. Sometimes Tootie will scratch Dom and He would get Angery and "torture" her. What "torture" means is that he'd bother her to get revenge. They will never get along.
Dom did like Tootie more then Mew until he restarted a friendship with Mew.
Ollie and Tootie
Edit
Main article: Ollie
Tootie does really like Ollie. She will sit by him and be around him. He's really the only dog that she'll be around. Ollie's her favorite dog. They were the best of friends until Ollie died.
Gretch and Tootie
Edit
Main article: Gretchen
Gretchen likes to annoy Tootie. Sometimes she'll scratch Gretch. Tootie doesn't like her too much.
Mew and Tootie
Edit
Main article: Mew
Mew likes Tootie. She will run up to her and bother her. Tootie does not like mew. She keeps telling Mew to back off and go away but Mew never leaves Tootie alone.
Amputation
Edit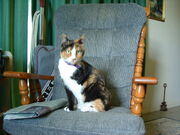 She was born with a bad paw. I guess she couldn't move it so the vets Amputated it.
She still can move very fast for a cat with three legs.
She puts her one paw in the middle on her body and that's how she gets up and walks around.
(For better or worse) she can also climb up and down objects.
Gallery